Letting God Help
by Scott E. Moore, Jr., BA
I GREW UP MIDDLE CLASS, one of five children, in Poughkeepsie, NY, in a Gold Star Family; my father died in the service of our country when I was only five years old. I was sheltered, going to private schools until high school, where I lost my way. I got around the wrong crowd and did the mischievous things. Not having a dad or a role model was tough, especially during adolescence.
It was my drug and alcohol addiction—coupled with my rebellion towards God after my mother died of cancer—that led me on a downward spiral. I hit rock-bottom when, while he was at work, I stole my roommate's TV to get drugs—a total betrayal of his trust.
Not for Me
I was still working, though. The bus to my job would often stop at 14th & R Streets. One day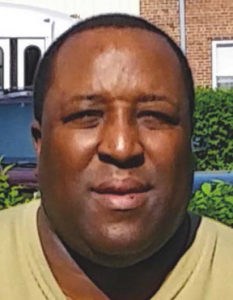 I asked the bus driver, "Why are the men lined up out there?" He replied, "That's the Mission." Never in a million years did I think I would end up there. Life is not without a sense of irony. My stubborn refusal to act responsibly with my earnings landed me into homelessness. In short, I chose homelessness over paying my rent on time. It was shocking; it felt very much like falling down a rabbit hole. It's amazing how quickly your feet begin to hurt when you're going nowhere fast.
Definition of Humility
When I first came to the Mission in 2002, I thought that I was better than the rest of the men; I had just run into some bad luck. While working the prestigious intake job at the front desk, I had become restless and snappy with the homeless clients–forgetting I was homeless, too. I told Senior Chaplain Ross, "These people need to get themselves together. They are weak." He pulled me aside and said, "They are not weak. They are too strong—too strong to let go of their loads, and let God help." His words stuck with me to this day.
I left the Central Union Mission in 2004 and was transferred to the Water Street Mission in Lancaster, PA. On my own, I failed. I soon was homeless again. Even though I needed them so desperately, I was not mature enough to realize the value of the lessons I learned in the Spiritual Transformation Program (STP). So, like canned food, I had to put them on the shelf until I had grown a taste for them. (Today I often feast on what I cultured in the STP.)
Helping Others
I was determined to change my ways. With God's help and my own earnest drive towards Him, things finally got better. I received my Bachelor of Arts degree on December 17, 2016, at Shippensburg University in Shippensburg, PA. I am starting a master's degree program for addiction therapy in January 2019. I hope to help people that have lost their way—people like me who looked for love and support in the wrong places.
Without Central Union Mission I would have been dead a long time ago or in prison suffering because of my addictive issues—I'm certain of it. The people who support Central Union Mission helped me transform my life. Please don't miss this chance to invest in another's humanity because the returns are out of this world. Your greatest investments may not be on Wall Street, but on Straight Street.