Central Union Mission is a faith-based 501(c)(3) nonprofit organization and the oldest private social service agency in Washington, DC. In addition to its emergency shelter, which provides over 62,000 bed-nights each year, the Mission operates a holistic, Christ-centered transformation and workforce development program for men, provides benefits for veterans, helps people overcome addictions, operates a food and clothing distribution center serving over 4000 people each month, runs a camp for underprivileged children, and offers a ministry to families and senior citizens. GuideStar has awarded Central Union Mission a Gold Seal for financial transparency and GreatNonProfits has given Central Union Mission a Top-Rated award.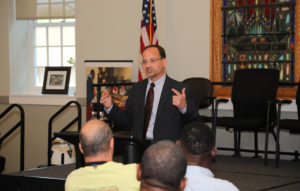 The Mission is continually developing its programs to meet the changing needs of the community. Its programs serve homeless men, underprivileged women, children, seniors, families and veterans.
One life at a time, the Mission works to help transform the area's toughest rehabilitation cases, including drug addicts, gang members, criminal offenders and the chronically homeless into productive members of society. The Mission's programs have an extremely high success rate at helping individuals overcome addiction and homelessness, and achieve independent living.
Interested in more information about the Mission? Learn about:
What We Do
 — 
Every day Central Union Mission strives to demonstrate Christ's love and compassion by offering physical, emotional, and spiritual services to people in need.

Our Statement of Faith
Our Locations — Central Union Mission has six locations throughout the Washington metropolitan area.
Our Staff — Senior leadership and board members