Central Union Mission is an IRS 501(c)(3) nonprofit religious organization and social service agency governed by a 10-member Board of Directors.
All of our services and programs are provided for free. The faithful and generous support of our donors makes our work possible.
Our support comes from generous people, churches, businesses and foundations who believe we are making a difference in our community. The Mission does not receive government funding. It is not a United Way agency. All gifts are tax deductible to the full extent of the law.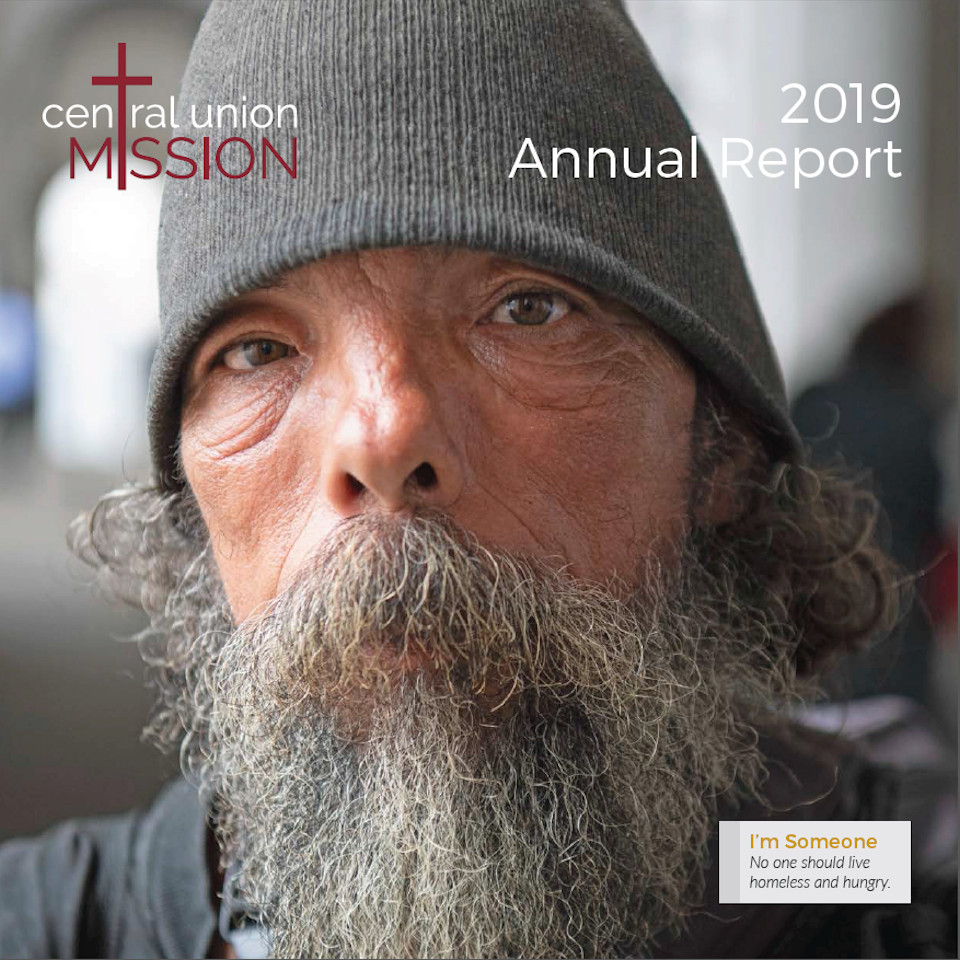 Financial Accountability

Annual Report 2019

Consolidated Financial Statements (With Supplementary Information) and Independent Auditor's Report

IRS Form 990

Board of Directors
Our accounting and financial reports are produced by independent professional CPAs. We voluntarily invite our records to be audited every year by a prominent CPA firm in Washington, DC. A copy of our financial statements is available on request.
In MD — copies of documents submitted by Central Union Mission are available for the cost of copies and postage from the Secretary of State, Statehouse, Annapolis, MD 21401, 1-410-974-5534.
In VA — a financial statement for the most current fiscal year is available upon request from the State Division of Consumer Affairs, Richmond, VA 23209, 1-804-786-1343.
ECFA Accredited — The mission is a member of the Evangelical Council For Financial Accountability. ECFA helps Christ-centered organizations earn the public's trust through developing and maintaining standards that convey God-honoring ethical practices.
GuidesStar Gold Seal of Transparency – The mission received the Gold rating from GuideStar which is used by many Corporate donors and more than 200 websites including AmazonSmile, Facebook and Network For Good  as a source for information about charities.
If you have questions, please email us at give@missiondc.org
Privacy Pledge
We pledge continued Christian stewardship of the resources entrusted to the Mission by you, our loyal supporters. Central Union Mission respects your privacy. We never lease or sell our mailing lists. Click here to read our privacy policy

---
"We consider your financial contributions a sacred trust and we are committed to efficiency, transparency, impact and making good on our promises. If your contribution is made in connection to a specific appeal, event or program, we will make sure it is applied accordingly. There are times when the collective generosity of our donors provides more than may be needed for a specific project or event. In those cases, our commitment is to use any additional funds for similar or related purposes, including general, overall support for the great work that the Mission does on a daily basis to feed the hungry and shelter the homeless."