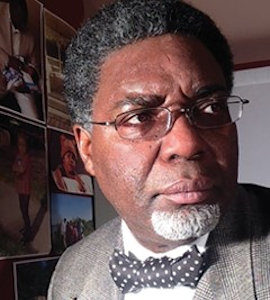 A law firm record specialist, Phillip Ford also runs his own photography and videography business. He and his wife are helping to raise their three grandchildren in their DC home while their son is in seminary. Phillip is an active member in his church, City of Zion, in Laurel, MD. His life is so 'normal', you might not realize how hard he's worked to get here.
It's been 11 years since Phillip Ford's wife dropped him off at the Mission's Spiritual Transformation Program (STP) in March 2004. He was a 'functional' 'addict' able to hold his mid-level positions in law firms? but his addiction caught up with him in 2002, and he lost his job. The drugs were supposed to dull his pain from being molested as a child, but instead they ruined his life. I didn't know how to react at the Mission, but I knew my family didn't want me at home. It was scary leaving home, but I was on the verge of divorce, my family was falling apart and I was so tired that I was contemplating suicide.?
He appreciated the program's structure, biblical training and the godly men who instructed him, and he absorbed all the teaching he could. He was encouraged to find that? I'm not going through this alone? he built relationships and met with other men going through similar trials. After his STP graduation, he had another law firm job lined up when the Mission asked if he would work as the receptionist for a year. Due to his excellent job habits and strong people skills, Mr. Treadwell hired him to be his executive assistant. He also worked as an assistant chaplain and front desk manager.
His job today requires managing the law firm's files, creating and closing files, doing research and assisting paralegals. He has held this job for a year now. He was laid off from his previous job on his birthday, March 31, 2014. He hunkered down for a long job hunt, but instead, after sending out only one resume, he was hired immediately. He is working part time but receiving the same pay as in his previous full-time job, which allows him time for his photography business, InFoKuz Productions (infokuzproduction.wix.com / infokuzproduction.com.)
Ford says his time at Central Union Mission was foundational. He encourages Mission friends to please come down to volunteer and assist in the process. Without your support, I would not be where I am today.?
In March 2004, his wife asked him for a divorce; he held back because he felt God leading him to wait. While he was studying in the STP, God changed his wife's heart, mind and spirit. A year after he finished the STP,  they renewed their vows. He says, "The last 11 years have been a honeymoon the way God has restored our marriage", He concludes, "it's all about surrender to God. Don't look to me as an icon; God is able to change you, too, if you submit to Him."