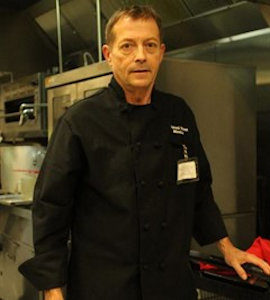 "I have always thought of myself as a golden boy, everything had always gone my way. All of a sudden everyone started saying no. Doors were slammed in my face. I lost my home, car, everything." Marc explained.
Marc graduated from LSU, and shortly after worked his way up to becoming the marketing director of a publishing company in Washington DC. In 1995 Marc heard word of a new television programming company starting up in California called EXTRA. The company was in contract under NBC. EXTRA was to become entertainment news. Marc left DC and headed to California. For 15 years Marc worked as the Research Director. He trained producers on how to use and verify internet sources for news use. Then one day, they started to need him less and less. "I essentially worked my way out of a job." Said Marc.
Marc explains he was overqualified or the jobs he was applying for. He had experience but no one was creating positions that supplied money to hire someone, it was just too expensive. "They wouldn't hire a man of my age for an entry level position at that point, but I was willing to take anything."
November 14th, Marc started in the special circumstances program at Central Union Mission. He wasn't in need of a degree or to get off of an addiction, he was just jobless and was going under.
"The people at Central Union Mission didn't owe me anything but they welcomed me in anyway. The warmth these people have shown me and how decent and wonderful they have been…they are my family."
One day Chef Mario asked Marc to join him in the kitchen. Central Union paid for Marc to get his DC Board Certification and Chefs License. Marc still lives at the shelter, but the kitchen has offered him a part time job. Marc voiced the kitchen has helped him have a since of self-worth. "Suddenly I was needed, and I needed to be needed. It mended my soul. I got up and did something that mattered."
The Mission has shown him the love and forgiveness just like Jesus did for all. Marc's role model is Jimmy Carter. "He is a devout man who believes in God and does so much good for people. I would like to be the kind of Christian he is."
Marc is experienced in writing, editing, proofreading and research and is looking for jobs in television production, publishing, and copy writing.
"I was making money. I assumed my life would go on like that. But I learned I wasn't above anything. I wouldn't wish losing everything on anyone. Don't think that incomes going to be there every day. I've been to Asia, Europe, Africa, I was very lucky. But people don't care if you have seen Paris when they are sitting there wondering where their next meal is going to come from."