Car Parts and a New Start
Khotso Tswaedi's life ran off the road. He moved to DC to get a job, go to school and live near his sister, but alcohol addiction brought a steady decline. The shame of his predicament made him leave his sister's house without even saying goodbye. Khotso was used to moving around.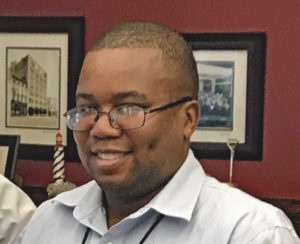 He moved to Arizona from South Africa at age 19 before he enlisted in the U.S. Army. After he finished serving for nine years as a receiving clerk and an air traffic controller, in 2016 he moved to Washington, DC, to be near his sister, his only family member in the States. Sadly, his alcoholism left him embarrassed and hopeless.
The Last Dollar
He wandered the streets for about a week then decided he would go to a shelter on New York Avenue. What he hadn't planned was how to get to the opposite side of the city with only one dollar in his pocket. That's how he ended up at Central Union Mission in April 2017; it was the shelter closest to where he was standing!  Today, he knows that God's hand was in that move.  Khotso graduated from the Mission's Spiritual Transformation Program in November 2017, and with his Army skills, began working at the Mission as an administrative assistant for the building operations and Men's Ministry departments.
This fall, through the Mission's workforce development program and the generosity of Passport Auto Group, Khotso began a full-time job with benefits at BMW Passport Auto in Maryland. He is working in the parts shipping and receiving department. According to Passport Auto Group, "We have an ongoing commitment to develop our community; to us that means more than giving financially.  It's our responsibility and passion to offer employment opportunities to the communities we serve."  Passport Auto Group has been a Mission partner since 2015.
Finding God Again
"If I hadn't come to the Mission, my life would have been horrible," states Khotso. "The Mission was not just a place to stay; it was how to find myself and get back my relationship with God again. Anything is possible with God." Amazingly, what's possible for Khotso now includes studying cybersecurity at University of Maryland University College in September 2019.
He thanks the Mission for getting him back on the road.  "Central Union Mission allows men who have lost everything to become a member of this community and to go on and do great things. " He adds that without the help of the Mission, he may not be alive today. With a good job and now reconciled to his sister, Khotso gratefully credits the Mission for his brand new life.