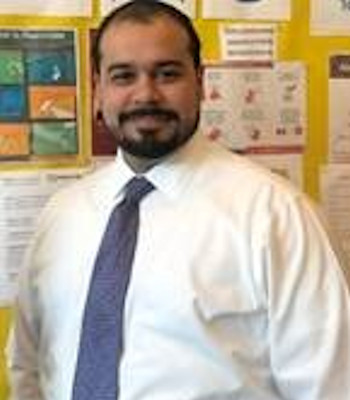 Jonathan Moncada
It was the summer of 2019 when Jonathan Moncado found himself on a bus headed to Washington, DC from New York City. Temperatures in the Washington, DC area average a scorching 88 degrees with a heat index of 99 during that time of year.
Just a few days prior to boarding the bus, Moncado was roaming the streets of New York City, looking for his next high and the next bottle of alcohol to consume. After hearing of his stepfather's passing while on a binger, he knew it was time to leave New York behind.
"I had no money, I was broke. I spent all my money and I asked God to help me get somewhere. I went to the Amtrak station and promised myself that wherever the next train was headed, that's where I was going." said Moncado. The Conductor shared with him that the next train was headed to Washington, DC, but the tickets were over $100. He told him to consider taking the bus because the tickets were only $10.
Moncado headed to the bus that was on its way to DC and saw one of the bus employees loading bags in the luggage compartment. He shared that he didn't have any money and just wanted to get to DC. The gentleman looked around and said, "Get on." Moncado didn't ask any questions, he just boarded the bus with anticipation and hope that a new life would be waiting for him at his new destination.
Once he arrived in DC, the sweltering weather wasn't the first thing to greet him. A gentleman approached him and asked him for money so that he could eat. "I told him, listen man, I need something to eat, myself and I don't have any money." So, the guy said, "I know where we can go," and he brought me to the Mission."
"I came in and got a sandwich and left right back out." Moncado found himself in a familiar but unfortunate scenario that evening as he was drunk and panhandling in the streets of DC all while trying to stay cool in the unbearable temperatures.
"I said, God I know you didn't bring me here for me to do this again; and I heard his voice so clear telling me to go back where I got the sandwich from."
Unfamiliar with the Mission and its programs, Moncado returned the next day, not sure of what would happen. He was relieved to find out that this place not only served sandwiches to the hungry, but also served as a shelter for the homeless.
Moncado checked himself in and proceeded to detox for three days. It was on the third day, a Sunday, that a fellow resident invited him to church. Little did he know, Pastor Stanley, the Pastor of the church he would be attending, was also the Vice President of the Men's Ministry at the Mission. Moncado was so moved by the service that he joined the church that day. The next day, while at the shelter, Pastor Stanley and Chaplain Garrison of the Restoration and Transformation Program (RTP) pulled him to the side and asked him, "What do you need?"
Knowing that he wouldn't survive another day of panhandling in the heat, he knew that this moment was his opportunity for his life to change. "I knew I had to be vulnerable and I had to be honest about what I was in need of, so I told them everything… I told them I had an alcohol and drug addiction. I told them I needed counseling. I told them I needed all the help I could get."
Pastor Stanley and Chaplain Garrison proceeded to tell Moncado about the Restoration and Transformation Program, which is a residential rehabilitation program, created to free men from the control of drugs, alcohol and other destructive behavior by establishing an active relationship with Jesus Christ.
The 18 to 24-month program begins with a robust assessment of each person's mental, emotional, physical, spiritual, educational and vocational status and an Individual Development Plan is created. A multidisciplinary team of social workers, chaplains, teachers, vocational instructors, doctors, therapists, and others walk with each man toward transformation. The goal is transformation and systemic, life-long change through comprehensive wrap-around services.
"The first six months was extremely hard because I finally had to confront feelings that I had been able to hide under the drugs and alcohol for so long," said Moncado, "but I did everything they asked me to do, and the program did exactly what the title says. It restored my whole life. It helped me reconcile relationships with my family and it transformed me… and not just spiritually. They focused on every part of me…emotionally, physically and mentally as well."
It's been two years since Moncado started the Restoration and Transformation program and since then he's been able to build a healthy relationship with his ex-wife and even recently spent some time with her and his four daughters who range in age from nine to fourteen.
"I'm currently working on my bachelor's degree in biblical studies to set a foundation for my future. And through the Workforce Development program here at the Mission, I'll be joining DC Central Kitchen's 12-16-week culinary program when it reopens after the pandemic. Once I graduate, they'll also help me find a steady job."
When asked if he had any final words or thoughts, he humbly said, "I'm just grateful for the Mission. I never knew there was a place like this where people genuinely care about your wellbeing. I thank God for the people here and once I'm fully independent, I look forward to pouring back into Central Union Mission the way they poured into me."
Story by Lillian Price