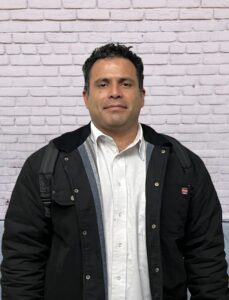 Fernando Zavala, 36, had a one-way ticket to D.C., in anticipation of a better life. He was hoping to get to the Nation's Capital and start anew, leaving his meth addiction behind him in California. He realized shortly after arriving to D.C., that it was he who needed to change and not his location.
"I came to DC in May of 2021. I had no family or friends here, but I knew this is where I needed to be… where I could finally get clean."
After wandering the streets with no food or money, he walked by what he thought was an interesting place. That interesting place was Central Union Mission. He was there to simply get some food to get him through the day, but he got much more than he bargained for. He got an overview of the Restoration and Transformation Program.
"Pastor Stanley told me everything about the program and the shelter and I really liked the way things were managed, so I decided to stay."
Fernando decided to devote all of his time to the Mission and even quit his job so that he could fully immerse himself in the bible and the program.
"I learned that I had time for everything except God. I used drugs, I used women, but I never tried to use God until I came here."
Of all the features of the Restoration and Transformation Program (RTP), the therapy sessions with the other residents is what impacted him the most. "I enjoyed the circles with the other guys. Hearing men talk about what they were going through and really express themselves helped a lot. We realized we had a lot in common, especially when it came to managing addiction." That vulnerability allowed Fernando to speak up and share his experience, freeing him from the shame and guilt he once carried.
Since graduating from the RTP, Fernando's future goals include opening a version of Central Union Mission in Mexico. "This kinda place is needed everywhere and I can teach what I have learned here… how to manage homeless people and how to not only feed their bodies, but their souls as well. Central Union Mission is the solution to this city's problem, I just wish more people knew that."