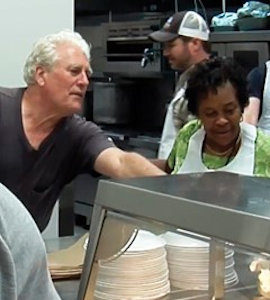 When Richard Semmler offered to help his older neighbor Miss Emily Amor get to one of her commitments, he didn't know that sixteen years later, he, too, would be a faithful volunteer at Central Union Mission. "She invited me to come help serve Christmas dinner in 1997, and that got me hooked." He began coming in to help on his own, settling into an every Monday night schedule he continues to this day.
Dr. Semmler, a professor of mathematics at Northern Virginia Community College—Annandale Campus (NVCC), comes in the late afternoon to help chop vegetables or cut the cakes for dessert then helps serve the Mission's guests and students a nutritious meal. He doesn't come alone, either; over the last few years he has brought along hundreds of NVCC students to help.
"I really encourage people to get involved by supporting a local and an international charity. This gives my students a new perspective. They are excited about their volunteering and find it worthwhile. Some tell me they want to come back again."
In addition to Central Union Mission, Dr. Semmler supports the College Pathways Initiative with scholarships for several first-generation college students. Often Pathways students join him on his Monday efforts. In addition to the dinner service, the students like to check in with Spiritual Transformation Program students to hear about their progress.  "The comments about working at the Mission are always positive. The word is out about what kind of experience this is."
What's his best advice for volunteering? "Spend an afternoon or evening at the Mission and serve a meal. Your help has a huge impact on the guests and also on your perspective. It's a privilege to meet peoples' needs and to see what goes on there. Often the men who ask for seconds are eating their only meal that day."
Besides his volunteer time, Dr. Semmler is a faithful financial contributor, donating over $100,000 to Central Union Mission over the last 16 years. We are so grateful that he is sharing his time and money with the Mission, as well as introducing young people to a life of philanthropy.