LEANING ON COMMUNITY
When Conishea was struggling to feed and clothe her family, YOU helped her!
Conishea was used to making ends meet all on her own.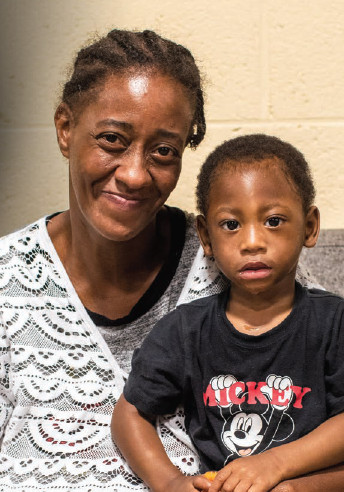 There was nothing she wanted more than to be able to provide for her family. But the burdens of being a single mother weren't letting up.
Many parents are in the same position as Conishea, hit hard by rising living costs and struggling to keep up. Other single mothers are fleeing domestic violence. They never expected to face hunger or homelessness. All have a painful story to tell.
Conishea's includes major crises that made stability for her family feel impossible. Her special needs daughter is in the hospital full-time. And Conishea battles her own distressing health concerns. "I have HIV," she says. "I just want to get better."
It's already a challenge for Conishea to provide for her children on her own, let alone while battling a serious illness. She received some help from family, but was running out of options to get by.
Conishea says, "When I didn't have any more money and couldn't go to my family anymore, I decided to come to the Mission." Here, she found the relief she desperately needed.
AN OPEN DOOR
When she walked through the Mission's doors, Conishea felt genuine hope for the first time in a long time.
At the Comprehensive Family Resource Center, she was able to take her pick of groceries and clothing. But more than just physical care, she found emotional and spiritual support.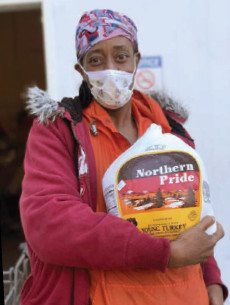 "Here, I receive prayer when I'm down, clothing for my children and food for our table," says Conishea. "Before I found the Mission, I was so lonely." Now, she has a community to lean on in her time of deep need. And it's thanks to your generosity.
Whenever she feels out of hope or options, Conishea knows the Mission's doors will always be open. And at Thanksgiving, this means so much to her and other families who are facing unexpected challenges.
"Last Thanksgiving, the Mission brought me a whole turkey and a box of food for a Thanksgiving meal," says Conishea. "Thank you so much."
Your gift of Thanksgiving meals will bless other families like Conishea's who are struggling to scrape by. You can help them thrive!