"There's Much Work I Want You To Do"
By Christopher Chapman
My choices had taken me on some wrong turns after I left the Navy in 2004, where I served as a journalist on the USS Enterprise.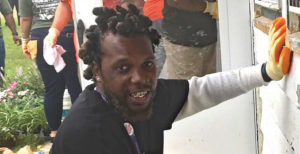 But in November 2015 I was with my mom when she took her last breath, and it was then that my anger took over.  After years of involvement in organized crime, I wanted the streets to feel my pain.  I started extorting more strip clubs, selling more drugs and robbing more drug dealers.  I made up my mind that the only way out of this lifestyle was for somebody to kill me.
I was recruited into Black Mafia Family, one of the most notorious underground organizations. I felt untouchable, but that wasn't true.  In November 2017 I was set up and robbed in a drug deal gone bad—and left for dead. The day I left the hospital, I asked the Lord, "After all the wrong I've done throughout these many years, why didn't the robbers kill me when they had the chance?" In a still, small voice I heard Him say, "Because I saved you. There's much work I want you to do."
A Change of Scenery
Instead of retaliating against those who robbed me, I returned to Birmingham, AL, my hometown, where a Veteran's Administration (VA) hospital case manager
helped me decide to come Washington, DC—initially because of the area's VA medical facilities. Since I was still recovering from the robbery and the 60 stitches in my head, I thought DC would be a good place to start over.
When I arrived in DC on March 20, 2018, my VA representative couldn't get me a ride to a veteran transition house and suggested I go to Central Union Mission nearby. That same day I heard a word from Chaplain Garrison at the chapel service, and I knew in my spirit that this was where the Lord wanted me. Joining the Spiritual Transformation Program (STP) is one of the best decisions I've ever made in all my 37 years.
Life-Impacting Lessons
Through the STP, I'm able to learn life-impacting lessons from godly chaplains. The teachers are giving me another chance to learn what I missed in school. I received first aid, CPR and AED training and certification, too.
I'm also having fellowship with my STP brothers; I like that we can build each other up. I've also shared amazing experiences with them: some of the best churches that I've ever been to, my first ever Major League baseball game,  inspiring concerts and conferences and the National Alliance To End Homelessness and Capitol Hill Day where I met Senator Corey Booker and had lunch with DC Mayor Muriel Bowser. We even visited the National Portrait Gallery and the National Air and Space Museum.
I thank the Lord for saving my life and leading me here to Central Union Mission. On behalf of all the guys, I want to thank you for your support. I know it wouldn't be possible without the Lord putting it on your heart to bless us. I thank you that you gave me a second chance to change my life.