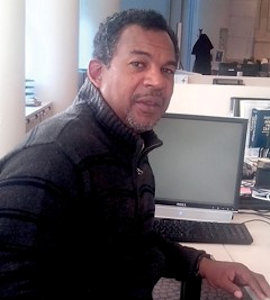 The time given to me to spend at the Mission was priceless and very important to me at this stage in my life. I graduated college this year with a degree in business management at 56 years old. I never thought I could, but with God's grace, I did it! I'm even looking forward to going back to school after I secure a permanent full-time job.
At my internship at the DC Corrections Information Council, God is using me to help bring communities and organizations together to help work with families and DC residents who are incarcerated, in halfway houses or who are returning citizens. My goal is to help ease their transitions back into society.
Now today, my wife and I are reunited in our own apartment here in DC. Thank God my wife is working full time, so along with me and my internship, we are not homeless. We both also have completed recovery coaching and counseling classes with certifications. I?m offering my services to coach and counsel men into recovery at the Mission or wherever God may use me to help others learn to have better lives by getting educated, working to get a job and striving not to be homeless.
I am a product of restoration and a walking testimony of how God works through people and places like Central Union Mission. As I work with God to restore my life, I would like not only to receive His blessings but also to be a blessing to others and help them transform and restore their lives. My wife and I are starting the DC Community Coaching and Counseling Organization to do just that.
I would like to thank God for the opportunity to spend time at Central Union Mission. I also want to give special thanks to the staff who introduced me to the Overnight Guest program, Special Circumstances program and Ready To Work program for their help and all their dedication and hard work.