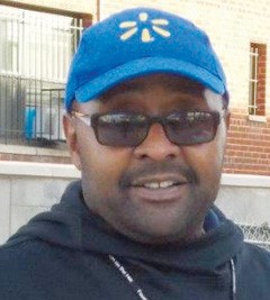 Since Walmart opened its hiring center in Washington, DC, in mid-September, more than 11,000 people applied for the 300 positions available at each of the six new stores. Aaron Green, a Central Union Mission Special Circumstances participant, was among the first of the initial 200 hired at Store 5968 at Georgia and Missouri Avenues, NW, slated to open in early December. After two days on the job, his boss encouraged him to apply for a management position, and he was hired as the Frozen and Dairy department manager.
When Aaron came to the Mission, he didn't have any addictions, but he wanted some help turning his life around. Aaron started in the Spiritual Transformation Program (STP) after a pastor suggested it to his mother, but he was put out of the program when he did not seriously commit to the work.
Back on the street, he realized he wanted to be able to help his 29-year-old daughter and two young grandsons, so he decided to try again. This time the Mission accepted him into the Special Circumstances program, which permits a man to stay at the Mission for up to six months to save money from his job.
During his time at Central Union Mission, Aaron became a Christian and now worships with his mother at Reid Temple AME Church in Glenn Dale, MD. Aaron will continue to stay at the Mission as a Work Program participant until he has enough savings for his own living situation. His family is 'so happy' that he has a steady position, and he is thrilled to be able to support them, especially at Christmas time. Aaron thanks the Lord for the opportunity to be at the Mission and for the Mission's 'pushing me' to succeed.