HIRE A PROFESSIONAL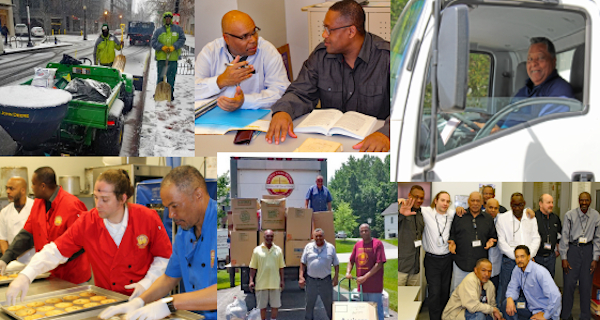 If you are responsible for enhancing your forward-thinking organization that has compassion for its community. Have you considered hiring a Mission Man?
Mission Men are talented employees with professional training in non-profit administration, IT help desk and provisioning, customer service, hospitality, culinary arts, landscaping, building maintenance and warehouse distribution.  They have completed Central Union Mission's workforce training programs.  Determined and passionate, they honor the importance of hard work.
Mission Men have a strong work ethic.  Through the Restoration & Transformation Program, Job Readiness and Education Academy and Work Therapy program, Mission Men follow strict program requirements, which include attendance and punctuality; organization, planning and responsibility; structured study habits and adherence to spiritual disciplines. In mastering these requirements, Mission men learn and practice taking initiative, interpersonal skills, follow-through and dependability.
Mission Men have a team orientation.  Through classroom and on-the-job training, Mission Men understand the importance of cooperation—collaboration and interacting with other diverse groups. Their team-building strengths make Mission Men
effective team members and leaders.
Mission Men are men of integrity who have graduated from a 15-month intensive training academy that includes spiritual transformation, adult basic education and on-the-job training focused on non-profit administration, IT help desk and trouble-shooting, hospitality, culinary arts, landscaping, building maintenance and warehouse distribution.
Mission Men are resilient and have endured various trials that demonstrate they are spirited, responsible, and reliable; they are able to accomplish tasks regardless of the challenges they encounter.
Mission Men add value to your organization. Mission men are ideal employees because they offer solutions and are ready to work; they take initiative and are self-motivated, ask useful questions, and demonstrate commitment to their tasks.
When you hire a Mission Man, you get a committed, vetted and well-trained employee who is ready to succeed for your company.
For more information, please contact Brandon Bragg, Interim Senior Director of Workforce Development and Education at bbragg@missiondc.org or 202-745-7118, ext. 199.