A Festive Christmas Dinner
and More for Our Homeless Guests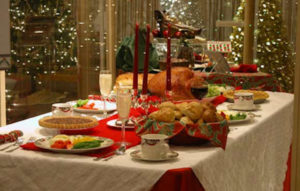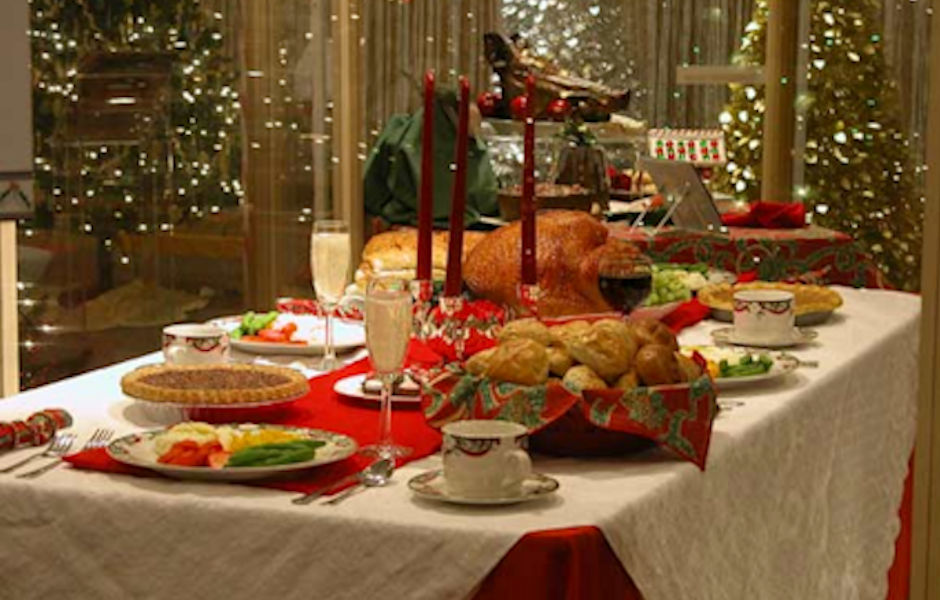 For those experiencing homelessness, Christmas can be a painful reminder of separation from family separation from family, poverty and failure. That is why on December 13-15, 2018, we are hosting Show Some Love, a weekend intended to boost the emotional health of hungry and hurting neighbors and to encourage men to enter one of the Mission's training programs. If we show that we care about them, we believe they will learn to care about themselves.
December 13 at 7:00 pm:
Capital City Symphony performs an inspiring Christmas concert
December 14, starting at 1:00 pm:
First men enjoy makeovers with haircuts, shaves, manicures and fresh clothes from the Mission Haberdashery. Then the Mission serves an elegant dinner with live music and a special appearance by popular Christian comedian E-Boogie.
December 15 at 10:00 am:
An onsite health fair sponsored offers free medical testing and information for those who may not have access to any other health care.
We would be thrilled if you would join Cassaday & Company, Inc., the premier sponsor, to make this weekend a special memory for those who might otherwise be forgotten. Here's how you can help: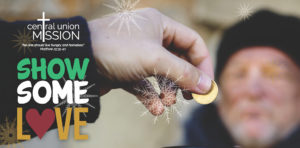 Purchase presents for the gift bags (e.g., fast-food gift cards, wristwatches, portable hot/cold bottles, inspirational items, quality chocolate candy, sunglasses, men's magazines, etc.). You may see the gift registry at Target and Amazon under the name "Central Union Mission" for gift suggestions.
---
Opportunities for you to "Show Your Love" :
---
Special Prayers for the men in the shelter and programs during the Holiday Season:
Pray that relationships will be resorted during this season.
Pray that the men will know that God has not forgotten them.
Pray that the men will stay steadfast in their faith.
Pray for those who are afraid and hopeless.
Pray that their hearts will be filled with hope for the future.
Pray for power to wrestle personal demons.
Pray that they will have freedom from addiction, illness and misery,
Pray that the kindness of others bring lasting benefits.
Pray that everyone will show these men the love of Christ during this season.
The heart of the Mission is serving the hidden homeless and hungry in our city, one life at a time. Your partnership helps us put into practice 1 John 3:8 (NLT): "Dear children, let's not merely say that we love each other; let us show the truth by our actions."
---
SPONSORS – Cash Donations
American Grocery
of Virginia
Commonwealth
Fort America
Tonya Brigham
Kelly Ann Holscher
Jon Hoyle
Tzulin Hsu
Berhane Kassa
Christian Kerge
Stephen Laseau
Louise Linton
Steve Lundberg
Mark and Lyn McFadden
Garcia Martore
Madeline Mortensen
Kathryn S. Nutter
Scott O'Connell
Hillary and Wilbur Ross
Karen D. Shaw
Emilye Williams
---
SPONSORS – Gift In Kind
Food and Drinks
Hard Rock Café
Servers and Non-alcoholic Drinks
Chef Jamie Gadson
Caterer
MLK Deli
Chef Horatio Davis
Christmas Gifts
Contributions by Amtrak employees
Providing gift bags for each man
Giving With a Purpose
Donating socks
DTLR
Providing gift cards and a DJ
Grooming Sponsors
Providing some of the groomers for the day
Everything Exclusive RSVP
Kaela Boyden
Entertainment
Christian Comedian EBoogie
Comedic entertainment
Capital City Symphony
---
"We consider your financial contributions a sacred trust and we are committed to efficiency, transparency, impact and making good on our promises. If your contribution is made in connection to a specific appeal, event or program, we will make sure it is applied accordingly. There are times when the collective generosity of our donors provides more than may be needed for a specific project or event. In those cases, our commitment is to use any additional funds for similar or related purposes, including general, overall support for the great work that the Mission does on a daily basis to feed the hungry and shelter the homeless."