"God's Grace Has Been Holding Us"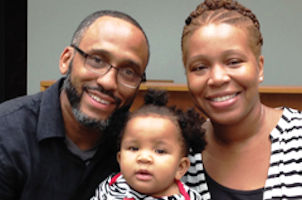 We last checked in with Shawn Chinn in 2009, when he was a Spiritual Transformation Student graduate and an A+ student at Lincoln College of Technology.  Here's an update on what's happened since:
When Shawn was honorably discharged from the Army in 1992, after serving four years with the 82nd Airborne in Panama and Korea, he moved back to Columbia, MD, without much of a plan. He was living with his aunt and working at a fast food restaurant.  Frustration and boredom led him to experiment with drugs, and before long he was "stealing, robbing and running around on the streets. Drugs didn't help my climb. They just gave me a shovel, and I kept digging," he explains. Soon he was arrested and awaiting sentencing.
He listened hard when an inmate Dwayne witnessed to him; Dwayne impressed Shawn with his peaceful acceptance when Dwayne received his 25-year sentence. Shawn's belief in Jesus got a big boost when Shawn himself received less time than he expected. Then he had a dream where he was standing in line in a place surrounded by fire; he was going to hell. Luckily, he got out of line to use the bathroom. Scary (and funny) as this was, the dream encouraged him to pray to accept Christ as his Savior.
He was sincere but immature.  "I had no guidance and was expecting the wrong things from God." After just 90 days back home, he returned to drugs. Months passed, and after another incarceration, Shawn moved in with his mother back in DC. Feeling like a burden to her, he went to the Veterans Administration to see if he could get into a shelter or a rehab program. "This time I really was fed up. I was tired of how I was wasting my life." He picked Central Union Mission from a list of shelters because he was told it was one of the cleanest.
That first night, he slept in his car because he hesitated to come in; his idea of a homeless shelter—dirt, violence, drugs— came from TV shows. When he dared to visit Central Union Mission the next day, he found it wasn't at all like TV. When he was eating his first meal there, Charles told him about the Spiritual Transformation Program (STP). Shawn was intrigued, but when he told his VA counselor about it, the counselor said, "You don't need church, right?"
Moment of Truth
"That was the defining moment for me. I ran to drugs because I didn't want to deal with my life, so I knew I couldn't recover on my own. I realized I needed Jesus; I knew He could help me."  He returned to Central Union Mission. What was different this time? He had a mentor: his STP Bible study teacher, who was a Howard Divinity School student. His mentor's sincerity and directness influenced Shawn. After he completed the STP, Shawn started at Lincoln College of Technology.  
While he was going to school and living at the Mission, he noticed a Mission staff member he thought he recognized. After he introduced himself, he was embarrassed to find out he hadn't met her before, but he soon realized he'd like to get to know her.
Dené Mitchell had been working at the Mission for one year when she met Shawn. She started as a seasonal employee doing gift processing. She learned about the Mission from a friend at her church and was impressed with  its ministry's scope: "I'd had family members on drugs, so I could tell that this was a good place to start over with Christ as the foundation." Her temp job turned into a permanent position as data base and donor relations manager.
Dené was praying about Shawn but decided they would just be friends: "He talked about God too much," she now laughs. A few months later, they reconnected, and Dené's opinion shifted. While she was mindful of all he had been through, he had a good reputation and a job working part time as a Mission driver.  Her family and Mission staff were supportive; their relationship developed. Shawn proposed two years later, and after premarital counseling at their church, Shawn and Dené were married in May 2012.
The Rest is History
Today, Dené works at the Mission as assistant director of strategic partnerships and community outreach, and Shawn has started a new job with Ecolab repairing and installing commercial kitchen equipment. Their daughter Moriah will be one year old at the end of October, and they are planning to move out of their DC condo into a house in MD. Shawn is a deacon and Dené is part of the follow-up ministry at their church, Shechem Covenant Outreach Ministries in Forestville, MD. They enjoy a close relationship with their family nearby.  "God's grace has been holding us and teaching us," Shawn remarks.
What their lives have become is not what Shawn had expected for himself: "I thought I would die on the streets; I was coming from a place of hurt. Now I'm about life—and giving opportunities to others." He calls the Mission "a great launching pad." "You can come let the Spirit of God work on you and be watched over because the Mission takes care of necessities that support life. You have time to hear what God is saying. It's a great place; God's hand is on this place."