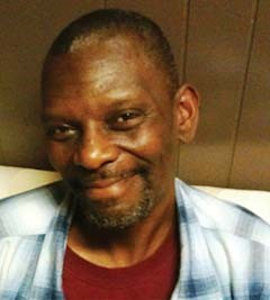 James Terry left the Mission 16 years ago with his addiction cured, but recently after losing his job, he ended up back out on the streets. He decided that he needed to return to the Mission that helped him long ago.
The Mission is helping him pull himself together; God gives him day jobs, and he can save money for his children. He says, "God is teaching me to be obedient; it's not about me, it's God doing things through me."
James has a special role as an encourager among the other Overnight Guests. He says that "The other guys notice and ask me questions about Christ. They know I'd give them the shirt off my back." He recently organized the men to repaint the "day room," the basement room where guests wait after signing in for the night. More rooms await their hard work.
James is convinced that Central Union Mission is "a very special place," where he's trusting God and getting the support he needs to regain his footing in life.
James, 2008 The Overnight Guest ministry at the Mission is always busy, especially this year since the DC shelters downsized their number of available beds. We offer clean, safe, and courteous shelter, nutritious food, warm clothing and medical and legal assistance. More than that, we offer hope through God's Word at nightly chapel services, in Bible studies, and through a staff who shows genuine love and concern. This is exactly what James needed.
When James first came to the mission, he was a broken man: "I was drawn to Central Union Mission. I knew that this was where I needed to be. While here, I had time to find work, and I learned how to take care of my family. People can fake things, I know, but the daily chapel services and Bible studies have changed me: I am different! Now I have a gift I never had before. ?"
Perhaps the importance of the Overnight Guest Ministry is best described by James, himself: "There are a lot of other shelters in DC, but I would not have found what I needed at any of them. I thank God for this place every day."