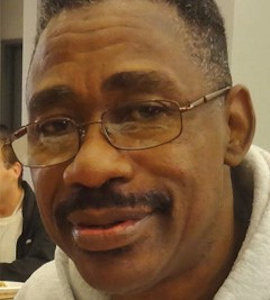 "I lost everything due to drugs and alcohol. I had nowhere to go except to God," acknowledges Charles Hill.
An Army veteran serving from 1974 to 1985, Charles left his adoptive mother in South Carolina to find his real parents in Washington, DC, in 1994. Their reunion wasn't as warm as he hoped for, but his father helped him find a job. He lost that job and more when drugs and alcohol started playing a role in his life. In early 2012, he lost his girlfriend and his home, too.
He well remembers coming to the Mission on March 18, 2012. He stayed for a few days with the goal of getting back with his girlfriend. Instead the Mission chaplains encouraged him to start in the Spiritual Transformation Program (STP). He decided right then, "If I can't get it together with the Lord, it's not going to happen at all." After about one month in the program he knew "this was the place for me."
He worked hard in the program studying and doing chores like cleaning, loading trucks and working in the kitchen, but his favorite part was the Bible verses. "Every Friday, we were supposed to memorize a Bible verse. Funny how life became easier as I could see my blessings in front of me when I couldn't before! I saw God showing me favor," he recalls.
He was raised a Christian: "No matter what happened Saturday night, you were in church on Sunday." However, living and studying at the Mission gave him time to reflect. "I was removed from the bad things I was living for and got a new start."
He graduated from the STP in 2013, and at his adoptive mother's funeral recently, his relatives were pleased to see his progress. He is living at the Mission and on staff as assistant front desk supervisor, which requires him to interact with and advise homeless guests. He also participates in job fairs and training so he can find employment and housing outside the Mission.
Most of all, he's waiting on God and His Word now for answers to his questions. "I wasn't living the morals I was taught, but the STP returned them to me. I'm learning about the Bible and how to live spiritually every day."