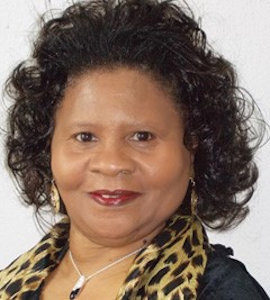 When we finally caught up with Betty Fluker, she was preparing to host a large Christian Valentine's Day party at her house. Betty is a great friend to the Mission since she lives "right down the street." A fellow R St. resident for 21 years, Betty has been a regular participant and volunteer at Mission functions for many years.
Betty is a gospel singer and minister who evangelizes in the area and has a CD of her own songs. She ministers to Mission men and other neighbors on the street; "everyone knows me," she said. She attends the Mission's Seniors Luncheons every month, enjoying the programs and fellowship.
Every other Thursday, she ministers in song and shares a few words of encouragement to the Food Depot attendees. "I wanted to do something to help the Mission," she says, and when we needed a worship leader, she stepped right up. For the last two years at the worship services, she has sung some of her own songs and led the congregation to join in with favorites like "People Get Ready," "Battle Hymn of the Republic," "On Time God" and songs from Shirley Caesar.
A native of Alabama, Betty came to Washington, DC, to marry her husband years ago. She now has five grown children all living in Maryland.
Central Union Mission is special to Betty: "I've volunteered at a lot of places, but I haven't seen another organization like Central Union Mission. This place is the best. The people here are loving and kind." We're thankful that Betty continues to be a part of our Mission community.