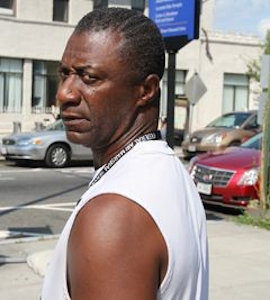 He had a five-year Army career retiring as a Sergeant and experience as a corrections agent in Georgia, and here he was in Seattle, struggling but not making ends meet with his part-time vehicle patrol officer job. Although he was living in an apartment, he had experienced homelessness in Seattle, and he didn't want to return to it.
His internet research told him that Washington, DC, was a good place for security jobs. He noticed one opportunity especially: Howard University Special Police Officer. The problem was he had to graduate from Special Police Academy first. He carefully saved up the $200 tuition plus money for one-way airfare to Washington, DC.
Since he knew he couldn't afford to find a place to live, he researched opportunities in DC and discovered Central Union Mission. His prospects were promising, so the Mission's Pastor Rutherford Cooke offered him room and board in the Work Program, and he came in February 2012. "I was assigned bed # 69. I was so happy. I did not come here to play!"
He graduated from the class with high honors but ran up against another hurdle: He had to take a $135 CPR class he hadn't planned on. The Mission helped him contact the VA's homeless program. The VA was impressed with his drive and was able to offer him a scholarship for the CPR class as well as for future unarmed and armed guard classes.
With his new license and work experience, he was a good candidate for the Howard University job. The interviewer asked if his background check would be clean. Alan responded, "My record's so clean you can eat off it!" They offered him the job. He passed the fitness exams and medical tests with flying colors and expects to start work in mid-September.
Along with the new job comes a chance for a new home. He was offered his own apartment through the Community Council for the Homeless at Friendship Place's Homeless Veteran's Initiative. According to Alan, "I'm so happy I could cry. That's all about God and His work of grace."
How did this happen? "Everything just started opening up as soon as I came to Central Union Mission. God says if you take the first step in trusting Him, doors will open." He's been carrying an inspirational card in his wallet for ten years, finally now understanding what it means: "Success comes to those who do what they can with what they have and leave the results to God."
"The Mission Work Program kept me focused and disciplined on learning the Word of God and helping me prepare for work." When at the Mission, he attended Bible studies and classes, helped tutor other students in reading and math and helped unload trucks. Without Central Union Mission's assistance, mentorship and resources, "none of these great experiences could have happened to me."
When he filled out his address line on the Howard job application, he wrote, "Central Union Mission, 1350 R St., NW." "I am not ashamed to say where I live," he replies. " I say it proudly because I want everyone to know what God has done for me."