Make a Call; Save a Life
Mission Houses More Men in 
Cold/Snow Emergency
****
Washington, DC—March 13, 2017—Central Union Mission makes room for more than 20 extra men to help the city during DC's weather emergencies. "People need to know that it's dangerous—even deadly—to be outside in these temperatures," commented David Treadwell, Central Union Mission executive director. "The substance abuse or mental illness that puts people on the street in the first place will also prevent them from seeking help. They might resist our concern, but regardless of their attitude, their rags and cardboard boxes are no match for snow and cold."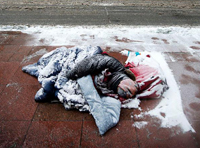 If you see a homeless person outside today, call DC's Hypothermia Hotline: 1-800-535-7252. State the location and describe the clothing of that person, and the city's hypothermia van will transport him or her to a warm shelter or a hospital, if necessary.
Since the District is required to provide shelter for anyone that needs it during weather that has below freezing wind chills between November 1 and March 31, Monday's snow forecast has put our preparations in high gear. Central Union Mission's usual capacity is 170, but we have mattresses for 20 more men during weather emergencies. Along with a safe sleeping space, our guests are provided nutritious meals, hot showers and warm clothing. Central Union Mission's services are funded by private donors who care about the homeless in Washington, DC.
Please contact Deborah Chambers at 202-534-9965 or dchambers@missiondc.org to coordinate interviews.
About Central Union Mission
Central Union Mission is a faith-based 501(c)(3) nonprofit with its homeless shelter located at 65 Massachusetts Ave., NW, Washington, DC 20001, missiondc.org. In addition to its emergency shelter program, the Mission operates rehabilitative and job training programs for men, a clothing and furniture distribution center, a retreat and recreation center with a camp for underprivileged children and a ministry to families and senior citizens.
Charity Navigator awarded Central Union Mission four out of a possible four stars, which indicates that Central Union Mission adheres to good governance and other best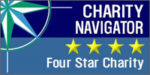 practices that minimize the chance of unethical activities and consistently executes its mission in a fiscally responsible way. Charity Navigator is America's premier independent charity evaluator.
###