Homeless Guests Release New Book
Washington, DC—January 12, 2018—Central Union Mission is proud to announce the release of a second book of writings titled Our Words by the men of Central Union Mission.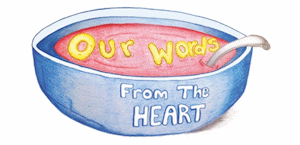 Help us celebrate this occasion at our book release party on
January 12, 2018, at 65 Massachusetts Avenue, NW from 11:00 am to 12:00 noon.
   Some of the authors, who are formerly homeless men now residing at the shelter, will read their original writings.
According to Central Union Mission Director of Education Bonnie Pritchard, "Our Words is the culmination of several years of effort by students in our Spiritual Transformation Program. While producing the book helped the men develop basic writing skills and communication, its main result has been to offer them healing creativity and emotional understanding."
The Central Union Mission's Book Release Party is free and open to the public. Members of the community can bring friends and family to enjoy the readings and light appetizers; books will be available for purchase for $5. Please contact
Deborah Chambers
at 202-534-9965 cell or
dchambers@missiondc.org
to coordinate interviews.

Central Union Mission
is a faith-based 501(c)(3) nonprofit with its homeless shelter located at 65 Massachusetts Ave., NW, Washington, DC 20001. In addition to its emergency shelter program, the Mission operates rehabilitative and job training programs for men, a clothing and furniture distribution center, a retreat and recreation center with a camp for underprivileged children and a ministry to families and senior citizens.
www.missiondc.org
.


Charity Navigator
awarded Central Union Mission four out of a possible four stars, which indicates that Central Union Mission adheres to good governance and other best practices that minimize the chance of unethical activities and consistently executes its mission in a fiscally responsible way. Charity Navigator is America's premier independent charity evaluator.