Central Union Mission Celebrates Book Release
****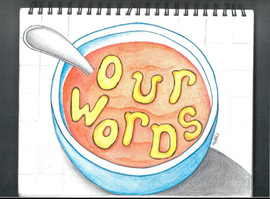 Washington, DC—May 13, 2016— Central Union Mission is proud to announce the release of a book of writings titled Our Words by the men of Central Union Mission.  Help us celebrate this occasion at our book release on May 13 at the chapel at the Gales School building (65 Massachusetts Avenue, NW) from 4 p.m. – 5 p.m.  Attendees will get the opportunity to hear from some of the men as they read their original writings.
According to Central Union Mission Executive Director David Treadwell, Our Words is the culmination of several years of effort by students in our Transformation Program. While producing the book helped the men develop basic writing skills and communication, its main result has been to offer them healing creativity and emotional understanding."
The Central Union Mission's Book Release Party is free and open to the public. Members of the community can bring friends and family to enjoy the readings and light appetizers; books will be available for purchase. Log on to our Facebook page for updates on this event.
# # #
Central Union Mission is a faith-based 501(c)(3) nonprofit. In addition to its emergency shelter program, the Mission operates a rehabilitation program for men with life-controlling issues, a clothing and furniture distribution center, a retreat and recreation center with a camp for underprivileged children and a ministry to families and senior citizens. For additional information, contact Deborah Chambers, director of strategic partnerships and community engagement, at Cell: 202-534-9965, or visit www.missiondc.org