Ball Through The Fall
2nd Annual Charity Basketball Tournament
****
Washington, D.C—December 8, 2016 – On Saturday December 17th, 2016, at 3:00 PM, King's Gold and The Hyyer Life, LLC will be partnering up to bring the public "Ball Through The Fall," their second annual charity basketball tournament used as a fundraiser and a platform to bring awareness to the homeless epidemic sweeping the DC, Maryland, and Virginia areas.


The holiday season is a time for giving thanks, spending time with family, and most importantly, helping others. That is why King's Gold and The Hyyer Life, LLC in conjunction with numerous other charities and sponsors throughout the DC Metro area are proud to present this tournament as a way to make sure no family goes unfed this season. The goal of this event and fundraiser is to raise a substantial amount in donations to help aide in combatting this homeless epidemic in
the DMV area. Central Union Mission, Bread For The City, and Capital Area Food Bank will be the 3 benefactors for this year's event.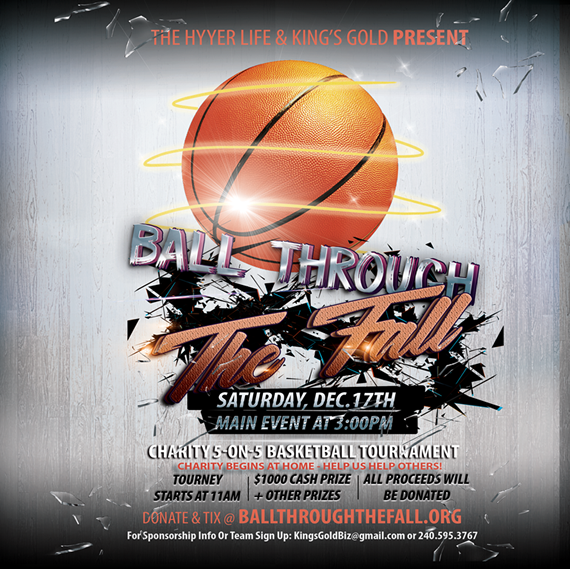 What makes this even more special is that this event has been coordinated fully by young millennial individuals who want to give back to the community. Everyone involved in putting everything together is 25 and under and are looking to better the community. Those involved are looking to gain the support of the community and help make this Thanksgiving season a positive one for all.
King's Gold and The Hyyer Life aim to raise $10,000 to assist in the fight against the homeless epidemic while also raising awareness in the millennial generation. There will be numerous surprise guests, vendors (including a food truck), and quality competition. This event is something for all ages (though 18+ is encouraged) and is sure to leave a lasting impression and create a feel good atmosphere.
Location
Eleanor Roosevelt High School, 7601 Hanover Pkwy, Greenbelt, MD 20770
General Admission
To purchase a ticket, donate to our online campaign, and/or learn more about the event, visit BallThroughTheFall.org.
Donations
Can't make the event but still want to donate? Be sure to go to GoFundMe.com/CharityBeginsAtHome to help someone in need today!
Media
For media inquiries and to request a media pass or sponsorship, email king.aleck@gmail.com and include name, publication, email, and phone number. (Please cc malachi.fuller1@gmail.com in all emails)
VIP
For sponsors and charities that would like to request a VIP pass, email king.aleck@gmail.com include name, organization you are representing, email, and phone number. (Please cc malachi.fuller1@gmail.com in all emails)
# # #
The Hyyer Life, LLC is a millennial culture-curating lifestyle brand that was started in 2014. It's aspiring mission is to challenge each person that comes into contact with the brand to go 'above & beyond' in every aspect of life that they consider significant. The brand has become an ever-growing staple amongst the youth in the DMV area, deriving its first pair of legs primarily out of the University of Maryland.
Since it's inception, it has now spread vastly from the DMV area to many other states. The brand's main means of expression is street-wear apparel and lifestyle products and events for the everyday millennial. For more info on The Hyyer Life, please contact TheHyyerLife@gmail.com.
King's Gold is a locally based lifestyle and apparel brand that creates high-end street-wear. The brand also focuses on philanthropic endeavors to help enrich the community and bring out the royalty in all of us. For more info on King's Gold, please contact KingsGoldBiz@gmail.com.
Central Union Mission is a faith-based 501(c)(3) nonprofit. In addition to its emergency shelter program, the Mission operates a rehabilitation program for men with life-controlling issues, a clothing and furniture distribution center, a retreat and recreation center with a camp for underprivileged children and a ministry to families and senior citizens. For additional information, contact Deborah Chambers, director of strategic partnerships and
community engagement, at Cell: 202-534-9965, or visit www.missiondc.org.