June 9, 2023, 9:00 a.m. ET
Aishvarya Kavi
New York Times
Reporting from Washington, D.C.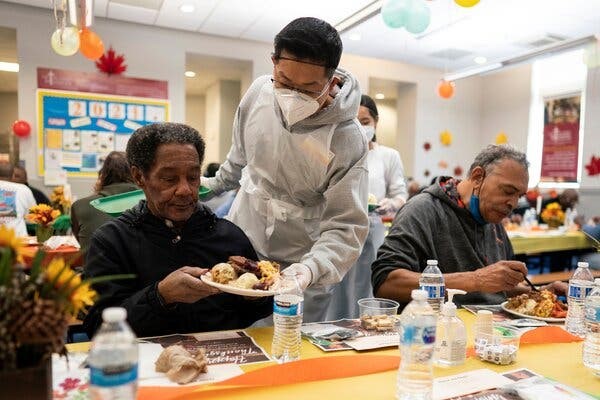 Volunteers at Central Union Mission in Washington, D.C., serving meals on Thanksgiving in 2021. The organization said experience with Covid enabled the group to respond quickly to the smoky conditions in the city this week. Credit…Will Oliver/EPA, via Shutterstock

Organizations that work with unhoused people in the New York and Washington metropolitan areas say the pandemic has prepared them to protect that population from hazardous wildfire smoke.
The toxic air quality has only underlined the vulnerability of unhoused people and the urgent need for solutions like affordable housing and access to medical care, advocates say.
Joe Mettimano, president and chief executive of Central Union Mission, a faith-based nonprofit organization that provides services to the homeless in Washington, said that experience with Covid had enabled the group to respond quickly to the unprecedented conditions in the capital on Thursday.
"We saw a little bit of an increased number from what we normally see on a weekday when the weather is nice," Mr. Mettimano said. He said the group's shelter was handing out masks and was prepared to expand the number of available beds on Thursday night.
"This reminded us of Covid," said Susie Sinclair-Smith, the executive director of the Montgomery County Coalition for the Homeless, which runs the main emergency shelter for men in the Maryland county that borders Washington.
The coalition followed an approach it took during the pandemic that successfully kept the infection rate low in their shelters: educating the hundreds of people it serves, including those with disabilities who are permanently housed but require regular support services, about the severity of the smoke in the air, symptoms associated with exposure to it and ways to seek help if they experienced symptoms.
"It's become increasingly clear to us that homelessness and public health are interconnected," Ms. Sinclair-Smith said.
Organizations in Washington and New York that do direct outreach with the street homeless have also been reaching out to those they interact with regularly, pointing them to shelters with open beds, places they can go to be indoors and other resources, like free bus services in Montgomery County on Thursday. Others have distributed masks and staples like food and water.
Most said that they had not encountered medical emergencies among the street homeless caused by exposure to the smoke, but that exposure alone was concerning given that life expectancy among the homeless is already far below that of the average American, largely because of chronic illnesses.
John Mendez, the chief executive of Bethesda Cares, an organization that works to end homelessness in Montgomery County, said the air quality concerns only highlighted the importance of moving the homeless into permanent housing and increasing the number of medical providers who work with those populations.
"We often say that housing is health care," Mr. Mendez said. "This is one of those times."
In a statement, Dave Giffen, the executive director of the Coalition for the Homeless in New York stressed that the city's Right to Shelter mandate had helped to shelter thousands of people who do not have homes from the toxic air, and criticized Mayor Eric Adams's attempt to weaken it.
"The air quality crisis hitting New York City is another reminder that safe shelter saves lives," Mr. Giffen said, adding that Mr. Adams "should be focusing on providing even more safe spaces for those currently sleeping on our streets."
Andy Newman contributed reporting.