Door prizes create excitement like nothing else. You can show how much you care by contributing items like: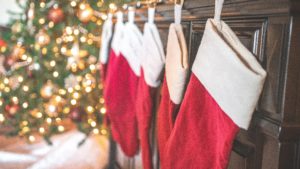 Gift cards
Cards should be to places easily accessed in DC like: Walmart, Target, Best Buy, Macys, Walgreens, CVS,
Uber, Lyft, Metro Card
Local restaurants like Subway, McDonalds, Chic Fil A, Burger King, Panera Bread, Corner Bakery, Chipotle,
Chop' t, Dunkin Donuts, Shake Shack, Carolina Kitchen, Cheesecake Factory, Starbucks, District Taco, Five Guys,
Wendy's, etc.
Event Tickets
Two tickets to a Washington Wizards or Capitals game (so they can bring a friend)
Two tickets to a local concert or holiday show.
Grooming Services
Gift cards to Massage Envy or The Art of Shaving
Holiday Baskets
Holiday baskets filled with treats like meats and sausages or popcorn, candy and baked goods. No alcoholic beverages please.
Cologne
Nice cologne
Men's Bath & Body Works collection
Please label prizes to ATT: Deborah Chambers, and deliver to the shelter front desk any day before December 13th
between 7:00 am and 7:00 pm. The shelter is located at 65 Massachusetts Ave, NW, Washington, DC 20001.
Limited parking is available for dropping off donations.
You may also mail your donation to Central Union Mission, ATT: Deborah Chambers, 6811 Kenilworth Ave, Suite 600B, Riverdale, MD 20737.
If you have any questions or require additional information, please contact Deborah Chambers dchambers@missiondc.org or 202-827-3078.