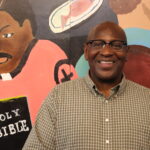 As his throat swelled and he began to suffocate, James Johnson realized that he was not happy with how he had lived. Fifty-six years old, he looked to God for a second chance. The next day, he woke up in the hospital, miraculously healed. He knew he had to keep the promise he had made to God. He would lead a better life. James, born in Connecticut, had a relatively hard, but not an unusual childhood. He grew up without a father figure, which caused a lot of emotional strife. School was the only place he felt he could be himself. He was the star of the basketball team, and a good student, but, as he grew older, he got in more and more trouble, and eventually, when he was 16, his mother kicked him out of the house. He continued to go to school but was surrounded by bad influences, leading him down the path of substance abuse. He never graduated high school and, at 18, he moved in with his sister. Still, in the midst of all the chaos and struggles, he maintained his morals and knew he was not living up to his potential.
God has been a major influence in James's life since he was a young adult. It all started with a drunken incident in the projects; an argument with a woman led to him being stabbed. He struggled down the stairs, bleeding profusely, and stumbled out the door and right into one of the few cabs that ventured into the projects. This was when James truly began to believe in God. Even with his newfound faith, James continued to intermittently get into trouble with the law, was imprisoned multiple times, but always narrowly avoided devastating consequences. That made him continue to believe in God. Even as he struggled with addiction and other aspects of life as well, James loved kids, had a big heart, and found ways to give back. He attempted rehab in Louisiana, later living in a halfway house, programs in which Christianity played an imperative role. At the halfway house, James met a woman who took him in and eventually, he would come to call her family.
He went in as a client, after two years he was in charge of three houses himself, the opportunity to give back that he'd always wanted. But still, he felt incomplete and unsatisfied. And so, we return to the beginning of this story, with James making a promise to God to turn his life around. On February 15 of 2021, James found himself on a flight to Washington, D.C., to the Central Union Mission. Having attended many different rehab programs, James recognized that the Mission was different. He was here because he chose to be; he wanted to get better once and for all, no more temporary fixes. At the Mission, James has felt incredibly loved, but, at the beginning, it was hard to believe in and accept that love because he didn't know how to love himself. Still, the support he has found here has allowed him to accept who he is, to find some measure of contentment. The Mission allows him to fulfill his dreams of helping people, something he is incredibly grateful for. In particular, James has enjoyed the opportunity to attend Catholic University, which opened new doors. He wants to give back what was freely given to him by God. He has found additional help with a man he considers to be his mentor, a pastor at a church in Alexandria. They met while he was struggling, and the pastor's goodhearted nature and lack of judgement were inspiring to James. As he is now improving himself, he looks back on the choices and experiences which determined his destiny and recognizes that throughout all the hard times he has always been thankful. With his newfound self-love, James wants to give back by returning to Louisiana and opening up his own halfway house, to be a restorative lifeline for other people like the mission was for him.