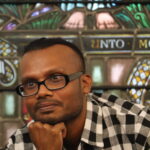 Every person knows when they've hit rock bottom. For Mohammad Hossain it was one Sunday, while watching the Eagles and Ravens play on TV. He had been smoking marijuana when he began to hallucinate that his friends were trying to kill him. Believing he was in danger, he called the police and, eventually, he ended up in the hospital. It was there that he realized he needed to turn his life around, that he needed to find peace.
Born in Bangladesh, Muhammad did not have the easiest childhood. Without a loving family or many friends to support him, he decided to take his chances in the United States. After two years of non-stop work, he realized he wanted to go to college to study music technology. His parents refused to support his dream, and cast him out of the family. It was then that he began to slip into the world of partying, smoking, selling drugs, and doing "crazy stuff."
He spent years living in a haze of drugs, and slowly came to realize he hated everyone and everything for no reason. As money started to run out, he knew he had to find a job. He was hired by a restaurant in Virginia, and his boss, he sees now, became his "guardian angel." Despite his partying tendencies, he would always put 100% into his work, and his boss saw that. She offered him a position as assistant manager, aware of his potential, but he refused, not wanting to take on the responsibility. His boss raised his wages, and instead of saving, he slowly began to spiral back into smoking and even began partaking in hard drugs. When he almost overdosed, he realized he had nobody to call for help except his boss, who immediately ensured he got to the hospital safely. Even after this incident and many others like it, this woman, his "guardian angel," continued to let him work. But he didn't take advantage of her belief in him.
Eventually, he decided to quit, moving in with a friend in Maryland. That was when he found himself in the truly horrible situation that began this story: rock bottom, hospitalized after suffering from a paranoid delusion. With the helpful guidance of a doctor at the hospital, Mohammad made his way to Central Union Mission's doorstep. He felt utterly hopeless in a way that was new. It was also here that he found support he never before experienced. He felt there was love even in the smallest gestures. On the day he arrived, he entered the Mission not knowing what to expect, but found open arms and a new family of brothers. Feeling hungry, he asked the man next to him if he could buy a piece of candy, one of his absolute favorite things. The man gave it to him for free, welcomed him to the mission and became a mentor to Mohammad. Despite being raised as a Muslim, it was at the mission that Mohammad found his Christian God. He entered into the spiritual transformation program, and shortly after going to devotion and chapel out of curiosity, Muhammad felt a wave of emotion when he realized he needed Jesus in his life. He credits the Mission for bringing him to this crucial realization. The Mission also provided all the tools he needed to get a job: a schooling program, and an advanced IT class worth $5000. After this long journey that led to him finding God in a different way, Muhammad simply wants to give back to his community, and the mission, through spreading the word of Christ as a missionary.