Open Full and Part-Time Positions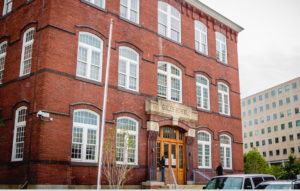 About Central Union Mission:
Central Union Mission is a faith-based 501(c)(3) nonprofit organization and the oldest private social service agency in Washington, DC. In addition to its emergency shelter, which provides almost 60,000 bed-nights each year, the Mission operates a holistic, Christ-centered transformation and workforce development program for men, provides benefits for veterans, helps people overcome addictions, operates a food and clothing distribution center which provides food for over 4000 people each month, runs a camp for underprivileged children, and offers a ministry to families and senior citizens. Charity Navigator has rated Central Union Mission as a three star charity, GuideStar awarded Central Union Mission a Gold Seal for our financial transparency and GreatNonProfits has given Central Union Mission a Top-Rated award.
PURPOSE:
To Glorify God through proclaiming and teaching the Gospel, leading people to Christ, developing disciples, and serving the needs of hurting people throughout the Washington Metropolitan area. We hold the Bible to be God's Holy Word in its entirety. It is inspired in every part by the Holy Spirit. (II Timothy 3:16; II Peter 1:21)
We hold that through preaching, teaching and ministering, Central Union Mission must use its resources and activities to bring men, women and children under the power of the Gospel; that they may have victory over sin, come into fellowship with God and live Spirit-filled, fruitful lives in Christ. I have read the Doctrinal Statement of Central Union Mission and I accept it without reservation.
---
Controller
We are seeking a Controller to oversee all financial operations and serve as a member of the Senior Leadership Team. This purpose-driven CPA will support the Mission's new strategic plan and bring a sense of professionalism and excellence to this growing and award-winning organization.
Have the events of the last 18 months prompted you to contemplate a shift in your career? Are you interested in joining a refreshingly transparent and passionate organization as they serve the needs of hurting people?
We invite you to thoughtfully consider this unique opportunity. To explore this opportunity, begin here.
---
Camp Bennett Maintenance Manager
Reports to: Director of Camp Bennett Christian Ministry Center
Purpose: Oversee the maintenance needs of Camp Bennett. Handle general maintenance needs, plan for and implement preventative and long-range maintenance projects and handle emergencies. Download Job Description.
Major Responsibilities:
70% Maintenance

Ensure that Camp Bennett is safe and up to code.
Handle the daily maintenance of Camp Bennett grounds, which includes, but is not limited to, lawn care, debris control, painting, building upkeep, and annual seasonal work.
Maintain records of supplies and orders.
Clear and treat sidewalks, parking lots, and driveway during winter seasons.
Inventory all assets at Camp Bennett.
Assisting in the repairs of buildings and facilities, including plumbing and electrical when appropriate
Performing all duties in accordance with prescribed regulatory compliance guidelines, including local, state and federal guidelines as well as American Camp Association accreditation standards.

20%  Plan for and implement long range maintenance projects

Collaborate with Director to determine future needs at Camp Bennett
Support Director with details to complete projects timely
Act as a liaison in the absence of the Director
Prepare a list of equipment needs for all projects
Assist Director in creating a time-line for projects

10% Other duties as assigned

Be available and prepared to handle maintenance emergencies.
Maintain a list of approved vendors needed to repair and service Mission property.
Remaining on-call in case of emergency and other duties as they arise
Special projects assigned by CEO
Requirements:
High school diploma
Five years or more related experience and/or training.
Experience operating and maintaining a tractor and mowing equipment.
Ability to do heavy lifting, bending, stooping, standing, walking for extended periods. Work involving climbing ladders.
Ability to cut grass and other landscaping without limitation or issue
Valid driver's license.
An active member in a local Christian church and agreement with the Mission's statement of faith, required.
Camp Bennett Christian Ministry Center – Statement of Purpose
The Camp Bennett Christian Ministry Center exists to provide an affordable venue for Christian events, camps, retreats and other activities directly related to Christian ministry and Christian purpose. Camp Bennett also offers local sports teams rental access to our gym and field facilities.
**Interested applicants should contact Carrie Kelley at ckelley@missiondc.org
---
For information about volunteer positions click here