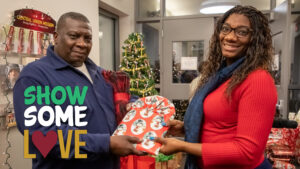 For those experiencing homelessness, Christmas can be a painful reminder of separation from family separation from family, poverty and failure.
That is why we are hosting Show Some Love on Friday, December 15, an event designed to boost the emotional health of hungry and hurting neighbors.
We transform the shelter into a Christmas wonderland and treat the overnight guests to a special Christmas movie viewing, haircuts and pampering kits, an elegant dinner, a room full of homemade desserts, and games and gift bags filled with inspirational and meaningful gifts to help them feel special and cared for.
You can bring hope to forgotten souls at Christmas. Here's how:
Bring homemade desserts  

Create your favorite cakes, pies, cookies or any other dessert to help Show Some Love to our homeless guests this Christmas!

Donate gifts directly to 170 overnight guests

Examples of gifts: Gift cards ($10 – 25 each), white athletic socks, dark socks, grooming bag (including comb and brush), pack of white t-shirts, pack of underwear, gloves, hat, cologne, Washington teams sports gear, jeans, shirt, etc.

Not a shopper? See the Mission Amazon wish list to send gifts directly to the Shelter, or do my shopping for me!
Donations can be dropped off at the shelter at 65 Massachusetts Ave., NW, Washington, DC 20001 from 7:00 am to 7:00 pm daily, no later than 7:00 pm on Thursday, December 14, please. Please label them "ATT: Marc O'Brien." For more information, contact Megan Schmoll at 202-745-7118 ext. 219 or partnerships@missiondc.org.
Thank you for showing your love to our neighbors experiencing homelessness this Christmas!