According to CDC guidelines, it should fit snugly but comfortably against the side of the face, include multiple layers of fabric that allow for unrestricted breathing, and be secured with loop ties. If reusing, the covering's fabric should be able to be laundered and machine dried without damage to its shape. (It's worth noting that a face covering is not recommended for young children under the age of two years old.) These masks are, of course, not a substitute for N95 masks, but useful for protecting others when you go out.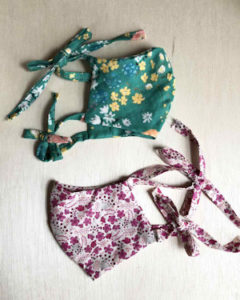 If you have a sewing machine, you can sew fabric into a medical mask for personal use. You can make these masks for those in our area who are who are experiencing homelessness and do not have the resources to make them for their own use.
You can use fabric and materials that you already have to make these masks. You can make these masks at home and deliver them to the Mission. For detailed instructions from Martha Stewart on How to Make Medical Face Masks, click here.
You may drop off your completed masks at the Men's Shelter at 65 Massachusetts Ave. NW, Washington, DC 20001 or at the Family Ministry center.