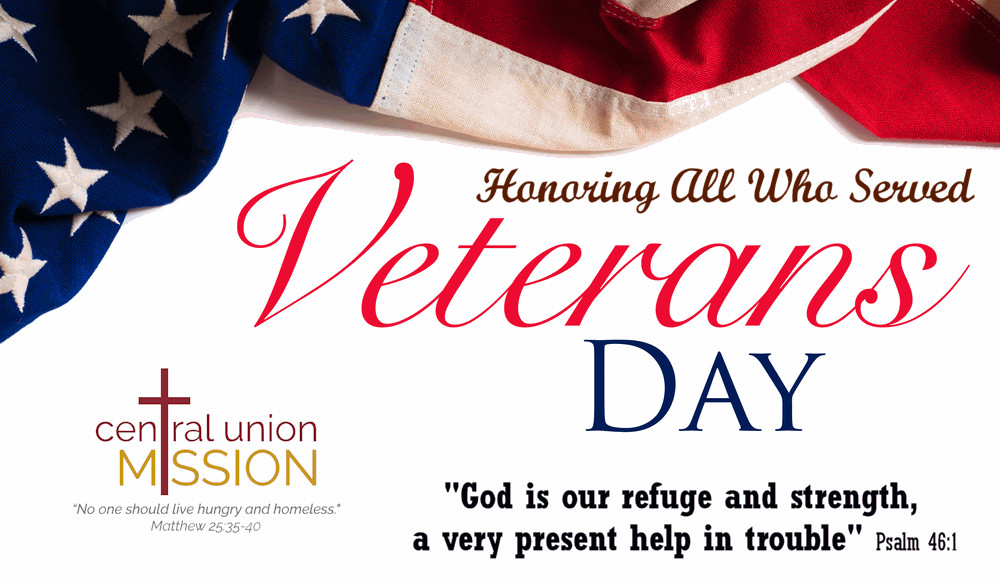 Central Union Mission welcomes all veterans to our Veteran's Day commemoration at our men's shelter (65 Massachusetts Ave., NW) on November 12 at 11:00 am. Join with homeless veterans, veteran volunteers and staff and our neighbors as we gratefully acknowledge their contribution to our nation. A free luncheon and program will include our veteran program participants sharing their experience of homelessness, addiction, PTSD and other concerns this Veteran's Day. We also welcome volunteers from Holland & Knight for a day of service.
"Veterans Day is an important date on our calendar," explains Central Union Mission Executive Director Joe Mettimano. "According to the National Coalition for Homeless Veterans, statistically one in five of our homeless guests has served in the military. We honor their service today in a world that doesn't always show them respect." "I didn't expect that I would be one of the statistics," commented one veteran guest at Central Union Mission. The Mission offers vets the help they need to return to productive society.
Central Union Mission has a long history of serving United States veterans. In fact, the Mission first opened its doors in 1884 to help the thousands of Civil War veterans left broken and homeless in our nation's capital. Providing food and shelter continued throughout World War I and the Great Depression, and our programs developed even further at the end of World War II as soldiers returned home from overseas.
Monday, November 12, 2018 11:00 AM – 1:00 PM     Download Program
RSVP: Please complete the form below to register for the Veterans Day Celebration.